Pole Choker™ 5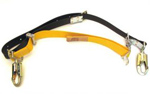 The Jelco Pole Choker™ is the ultimate and most widely used, wood pole fall restraint device in North America. This device was designed on the principles of a standard pole strap. The 1 3/4 inch wide yellow nylon inner strap "chokes" the pole; while the roller's teeth "dig in" to provide the gripping force required to prevent you from falling to the ground. The yellow choker strap is adjustable, helping the worker to extend his reach in a safe manner. When the choker strap is disconnected, it functions the same as a standard pole strap. The Pole Choker is available in four sizes from the smallest distribution pole to the largest transmission pole.
Click Here to view Jelco's line of Pole Chokers™.


Tradition 4" Belt in Black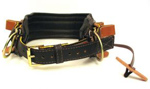 This premium belt is characteristic of the high quality products that Jelco has to offer. The all leather belt offers superior support, while providing a lineman with the softest, most comfortable, and light-weight (under 4 lbs) belt that money can buy. It features a 4" back that fits and feels like your favorite "broken-in" lineman's belt that you have had for years, right out of the box. The tradition belts' full floating design offers linemen the convenience of full range of motion, while performing all tasks and operations. This item comes equipped with leather tool loops, tape holder, chrome accessory clip, and large positioning D-rings for ease of attachment.
Click Here to view Jelco's line of Belts.


Oval Tool Bucket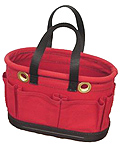 Oversized oval design
18 oz red canvas
24 pockets: 14 interior and 10 exterior
Two hook attachment holes are reinforced with brass grommets
Molded, reinforced plastic bottom
14"L x 7"W x 10"H
Weight: 2.3 lbs
Click Here to view Jelco's line of Bags & Holsters.